---

Battery Limiter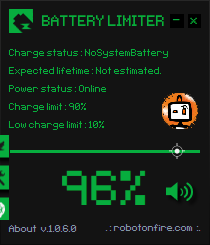 If you have problems of rapidly losing power on your laptop battery this might just happen because you are overcharging it. This might be true for even the most expensive laptops out there.
Sometimes your battery might be under a lot of stress running towards the last percentages of its full capacity while charging.
Battery limiter is a simple, small software that will help you and alarm you when charge capacity hits the limit. So you'll never forget to unplug your laptop again. The default limit set is 90% but you can modify this up to 96% max. Once the alarm starts all you have to do is unplug your laptop to stop it. Battery limiter will keep the your laptop away from sleep mode while running so you don't miss the alarm.

If you enjoy my software and would like to participate/support, please make a donation of your choice here.

Feel free to download your copy and enjoy.
* portable version will loose some features and you will have to start it manually each time you restart your machine
---
New minor release 1.0.7.4:
fixed "so smart" bug, was not triggered in live action sometimes, but was working in test mode
fixed user settings save, some option would not be remebered sometimes
optimized shutdown and startup procedures
New release 1.0.7:
sometimes "so smart" URL would reset and could not be saved again - fixed bug
"so smart" status is now a POST variable in addition of it beeing sent in the request body
updated max settings for "low limit" alarm to 60
new and easy custom alarm message editing found in options now
"reset position" button added in try context menu (use if you can't find your UI)
New version released 1.0.6:
great new release, niknamed "so smart"
"so smart" feature, allows users to connect Battery Limiter with their smart devices, like smartplugs to automate you charger
five new default alarm sounds for you to choose from
you can now set the alarm sound duration with three presets
direct link for support/donations if you would like to participate
* smart feature will probably require some more explanations for most users I will prepare some basic manual of the idea, also I hope some users might send me their setup so could share with the rest of you
New version released 1.0.5:
new engine, allows computer to sleep while not charging
some bug fixes
lower limit charge available to max 50%
new default alarm
custom alarm message available
* new installer, please make sure to uninstall the old version first. Run setup.exe, it will check for dependencies.
New version released 1.0.4:
new feature, mute/unmute sound alarm
fix for corrupt user settings file. Issue was causing Battery Limiter to stop working sometimes.
fix for "lower" limit sometimes not alarming at user specified settings
some general code optimizations
New version released 1.0.3.2:
New version released 1.0.3:
fixed some bugs and rendering issues
introduced "stealth" mode
custom alarm sound option added
added "low" battery charge limit
some more useful features
New version released 1.0.2:
fix for some Atom, Dual Core and Core2 Duo processors
auto startup with Windows OS
rememeber position on screen
five color themes
New version released 1.0.1.26:
support for wider range of processors
background process optimizations
rendering optimization
accessibility improvements, added visual alarm
---
Supported by: